This post contains some affiliate links, this comes at exactly no cost to you!! All this means is if you make a purchase through a link you find on this blog, I receive a small commission.   This helps me keep this blog running and keeps me and my family fed!  Thank you!
This is not an Italy itinerary for the faint of heart!
This Italy Itinerary is a fast-paced expedition to see the most of Italy in two weeks via train and bus.  If I could convince everyone of one thing- I would tell everyone to drop everything and live in Italy for about 3 months, then take your time and truly immerse into the Italian lifestyle. Unfortunately, not everyone has the time for that!  So, if you're on a crunch and ready for a busy 2 weeks- get ready because here you go!
If planning a two week trip to Italy seems like an insane feat, you're in luck! 
I work as a travel designer with Explorateur Travel creating completely custom itineraries to suit your travel needs.
I adore Italy and would love to help you plan your trip!  All quotes are complimentary, and there are no fees or costs associated with using me as a travel agent.
Ready to get started?

All you need to do is fill out this Inquiry Form and I will be in touch shortly!
I lived in Italy on two separate occasions. One of these occasions I was there for an entire year, and truly able to explore some of the more intimate corners of the country, and especially of Florence, where I called home.  When people ask me where my favorite place in the world is, the answer forever will most likely be Italy.  I have flown back and forth from the states to Italy too many times to make my bank account happy. This love of Italy is what makes me excited (and qualified!) to share my insider knowledge with you!  I even worked as a tour guide while I was in Italy!
If you have any questions about Italy & travel.  Italy in general, travel in general, my life in general, don't hesitate to reach out to me on Instagram, Facebook, or email me at sydneyzaruba@gmail.com – or just leave a comment at the bottom of this post!
Day 1  of your Italy Itinerary – Milan
I choose Milan for the start of the Italy Itinerary because it's often the cheapest place in Italy to fly into! If you fly into Rome you can simply just rearrange this itinerary starting with Rome and going in the opposite direction.
I also prefer to start an Italy Itinerary in Milan for another reason.  By starting in the north of Italy, it allows you to make your trek a giant circle around the country, and end up where you started while hitting all of the major spots along the way!
Alternatively, Bellagio, Verona, and Venice can all be taken as day tours from Milan.  I have listed them as stops as their own, but if you decide you don't want to keep packing up your bags, I would totally recommend taking them as day trips.  The only place you would be missing out on by not staying the night is in Bellagio, but both Verona and Venice make awesome day trips.
Here is a great list of easy Day Trips from Milan!
Milan is a great place to start getting immersed in Italian culture. It is a very metropolitan and international city as well as a great place to get your foot in the door!  If you're flying in from America, you'll most likely arrive in Milan in the morning.  Get your stuff to the hotel, and STAY AWAKE!  Go and do all the tourist activities I have listed below!  You want to get accustomed to the time difference and fight the jet lag as much as possible so make sure you stay awake until it is an acceptable time to go to sleep in Italy.
For more tips on jet lag, you can read this article!
Must-See Spots in Milan:
The Duomo– Holds lots of  architectural importance in Italy
The Last Supper – YOU MUST BOOK THIS IN ADVANCE Here is the link to book tickets on your own (anywhere from 7-10 Euro) – but honestly it is a very confusing website and your best way to do it is to take a guided tour of Milan (learn all the history) that includes a Last Supper ticket.  There are several great options from Viator for Milan walking tours!
The Fashion & Shopping District – Milan is known for its fashion (duh there is a huge fashion week here EVERY YEAR) and there is no harm in window shopping while you are in town.
Where to Stay in Milan:
Homestays:
$ HomeHotel – €95 /night – Sleeps 5
$$ Panoramic Apartment – €120 / night – sleeps 3
$$$ Roofterrace Apartment – €207 / night – sleeps 5
Hotels:
$ Italianway- San Bernardo
$$  Hemeras Boutique ApartHotel 
$$$ Hotel VIU Milan
Hostels:
$ MEININGER Milano Lambrate  ~$19 per bed per night – 9.0 Rating on HostelWorld
$$ Madama Hostel ~ $36 per bed per night – 9.2 Rating on HostelWorld
$$$ Ostello Bello Grande ~$50 per bed per night – 9.6 Rating on HostelWorld
(please note prices for accommodation are liable to change – these are the average prices that I have found at the time of research for these specific accommodations – events in the area and travel dates may affect prices!)
Days 2 & 3 – Bellagio/Lago di Como: 2 Nights (or day trip) – Either will world for this Italy Itinerary
After you've spent your first night in Milan- hop on the train in Milan and head to the celebrity hotspot – BELLAGIO! (make sure you say hi to George Clooney for me) The first leg of this journey is by train to Varenna and lasts about one hour ten minutes, tickets cost around €6.50. Then get on the ferry to go to Bellagio, which is a 15-minute ride and tickets are around €10.
Must-Do at Lago di Como:
Eat Seafood (yum!)
Boat Tour – Dream about the lifestyles of the rich and famous with a boat tour on Lake Como.
Relax!! This will be the least "get up and go" part of your vacation
(Here you can either take the train back to Milan & do the next two as day trips from Milan, or choose to stay the night in Verona, then travel to Venice for a day, and then head to the next destination that evening)
Where to Stay in Bellagio:
Homestays:
$ Ghisallo Apartment  – €82 /Night – Sleeps 2
$$ The Cutest Antique House – €153/Night – Sleeps 4
$$$ Luxury Villa B&B With Pool (private room) – €221 – Sleeps 2-8
Hotels:
Hotel Bellagio – Starting at $112/Night
Hotel Suisse – Starting at $115/Night
Il Sogno Deluxe Bellagio – Starting at $114/Night
Day 4 – Verona & Lake Garda: 1 Night (or day trip)
After relaxing in Bellagio, head to another famous Italian lake, Lake Garda, and one of its famous little towns, Verona, the setting of Romeo & Juliet.  Find your Romeo, or if you already have him, find romance in Verona for a night before continuing on your adventure.
Must Do in Verona:
Juliet's Balcony
The Arena
Castelvecchio Bridge
Where to stay in Verona:
Homestays:
$ Casa  Archi, Overlooking Bridge – €95/night – sleeps 6
$$ Rooftop Terrace in Historic Center – €127/night – sleeps 7
$$$ Residenza Liberty – €243/night – sleeps 5
Hotels:
$ Residenza Elisabetta – Starting at $75/Night – Fantastic Reviews!
$$Hotel Milano & SPA***S – Starting at $91/Night (has a hot tub!)
$$$ Hotel Colomba d'Oro – Starting at $125/Night – Absolutely stunning interio
Hostels:
$ The Hostello  ~$29 Per Bed Per Night – 9.5 Rating on HostelWorld
Day 5 – Venice: Day Trip
Now it might seem crazy to spend only a day of your 2 week Italy Itinerary in of the world's most famous cities- but trust me when I say one day will truly be enough.   Very few people actually live in Venice, so once the sun sets and the tourists all go back to their hotels- it basically becomes a ghost town.  Head out from Verona or Milan (wherever you decided to stay the night) early in the day, and get to Venice at a solid morning hour to get in a full day of sight-seeing.
Here is a great list of  Venice Day Trips from Milan
If you did opt to spend the night in Verona, you can take the train direct to Venice.  It takes about 1 hour 10 minutes.  Alternatively, it is cheaper to take the bus but it will take you about 2 hours, and will probably be a bit more of a hassle.
Leave after dinner to hop on the late train to Florence for your first night.
Must-Do in Venice:
Saint Mark's Cathedral (and Piazza)
Ride a Gondola
Eat Cuttlefish in Squid Ink Sauce
Watch a Glass Blowing Demonstration
BONUS!  If you have the time take a Vaporetto to one of the surrounding islands, either Murano or Burano.  Both have very unique cultures and are equally as charming as Venice, often with a significantly less bit of crowd!
For more info on Venice check out one of my blogs about this unique city!
Venice, the Menace
6 Reasons to Love Venice
Days 6, 7, 8 & 9 of 2 Week Italy Itinerary – Florence: 4 Nights
MY FAVORITE CITY IN THE WORLD!!
But seriously- there is a reason why I listed Florence as the place you should stay the longest.  4 nights in this incredible city isn't even close enough to discover it all- but it's a good start and a MUST in your Italian itinerary.  Apart from the Day Trip to Siena & San Gimignano, I have listed below- there are lots of cute day trips from Florence that you can take- including Fiesole, Pisa (do this with something else, you will NOT want to spend a whole day in Pisa), Lucca, and several of the castles in the surrounding region (Castello de Trebbio is my personal fave).
Florence is the heart of the renaissance and hosts about 1/3 of the world's art treasures.  There are plentiful things to do while you are here so don't miss out!
I have spent a lot of time in Florence have linked some articles below to help you tackle this little town.  Peruse them and figure out what interests you the most!
38 Things to do Before you Leave Florence
Florence City Guide
Florence in Photos
Best Instagram Spots in Florence
Must do in Florence
Climb the Duomo & Bell Tower (can buy tickets day of- Free first Sunday of the month)
Hike up to Piazzale Michelangelo (free)
Try Bistecca alla Fiorentina and/or Wild Boar (even if you don't eat meat)
Shop at the Leather Market
Rub the nose of the Porcellino
Where to Stay in Florence:
Homestays:
$ Terrace with Duomo View Apartment – €94/night – sleeps 4
$$ Panoramic Ponte Vecchio Terrace – €140/night sleeps 4
$$$ Villa Duomo View – €240/night – sleeps 6
Hotels:
$ Hotel del Corso – Starting at $110/Night – Great Location
$$ Hotel Monna Lisa – Starting at $115/Night – Great Location!
$$$ Grand Hotel Baglioni – Starting at $151 /Night – Great view of the duomo from the dining room!
$$$$ The Westin Excelsior – Starting at $455 /Night – The Cream of the Crop with a Beautiful Rooftop Terrace and Rooms on the Arno.  Worth the splurge if you have the money!
Hostels:
$ Plus Florence – $12 Dorm Beds/ Night – 8.6 Rating on HostelWorld
$$ Archi Rossi Hostel – $23 Dorm Beds/Night – 9.0 Rating on HostelWorld
Day Trip from Florence – Chianti Wine Tour, Siena & San Gimignano – Day Trip from Florence
There are many ways to see the Chianti region- but one thing that is for sure is that it is a MUST!!!  In my humble, Italy loving opinion, it hosts the most amazing wine in the world, and some of the most stunning views you will ever see in your life.  There are several companies to choose from when booking your Chianti excursion, some riding Vespas, some horseback riding, some in a Fiat 500 where you can race through the countryside.  Some of my favorite local companies are Fun in Tuscany and Tuscan Cycle.
To read about my horseback riding adventure through the Tuscan Countryside check out this post!
For Easy to Book Chianti Day Tours from Florence, be sure to check out Viator's Options!  Follow this link now to book!
Day Trip from Florence – Cinque Terre- 1 Night – One of the Best Places to Visit in Italy
Leave Florence early because you are going to want as much time as possible in Cinque, especially if you want to hike.  (The train will take you around 4 hours.)
You cannot miss Cinque Terre! These 5 little towns sitting on the Ligurian coast, also known as the Italian Riviera, are some of the most stunning views in Italy.  Picture perfect colorful homes hanging over the sea in a side of a cliff- the towns can't be accessed by car or bus- the only way in is by train, boat, or foot.  Bask in the Italian sun or take the hike from town to town and see views unforgettable!
Check out my blog on how to spend the perfect day in Cinque!
Bonus Day! – Perugia or Assisi – 1 Night
If you have an extra couple of days to spare and want to head off the beaten path a bit, the region of Umbria is stunning!  Take your pick!! Both of these towns located in Umbria are quaint and charming and perfect to relax in after the "fast-paced" lifestyle of Florence!  (I use the term fast-paced very loosely!) Once you've decided, book a hotel or Air BnB- and spend a relaxed night in these peaceful towns.
Pro-Tip – If you're traveling during October visit Perugia to experience the Eurochocolate festival!!! (this can also be taken as a day trip from Florence)
Days 10 & 11 – Amalfi Coast- 2 Nights
One of the most beautiful and spectacular parts of spending two weeks in Italy will undoubtedly be the Amalfi Coast.
To make this part of your Italy Itinerary work you will have to leave Florence very early in the morning.  From the Santa Maria Novella station, take the train into Naples. You won't want to stay there long. Naples (or Napoli in Italian) is dangerous, and not nearly as beautiful as the rest of the Amalfi Coast.  Once you get to Naples you will have to take a bus to Sorrento.
Check-in early to your accommodation in Sorrento if possible (or just drop your bags if they'll allow it!) and take the bus to Positano, where you will get perfect views of little cliff-hanging seaside houses, and during the summer an amazing beach day.
Spend your evening back in Sorrento wandering around and eating amazing seafood. Get prepared for an adventure-filled following day!
In the morning you will head to the celebrity vacation island of Capri!
Here you can ride the gondola (or hike) up to the top of the island (Anacapri) for some beautiful views.  Get custom made leather sandals, a Capri specialty, or go and swim in the blue grotto, if the weather is right and your heart so desires.
Where to stay in Sorrento:
Homestays:
$ Apartment Angelina – €96/night – sleeps 4
$$ La Conca dei Sogni – Terrace €144 – sleeps 6
$$$ Eden House €307/night – sleeps 5
Hotels:
$ Sea Room Sorrento – Starting at $70/Night- Beautiful Rooms with ocean-facing terraces
$$ Hotel Rivoli Sorrento – Starting at $115/Night – Really cozy & great reviews!
$$$ Imperial Hotel Tramontano – Starting at $211/Night – Pool!
Hostels:
$ Ostello Delle Sirene – Dorm Beds $42/Night 
After you check out of your accommodation the next morning- ask if you can leave your luggage and head to Pompeii and Mount Vesuvius- this is a truly life-changing trip, and something you won't want to miss while in the area!  Pompeii is incredibly humbling, and when else are you going to be able to climb a volcano!? Be sure to pack your walking shoes- the climb up to Mount Vesuvius is nearly a 45-degree incline the whole way!  Well worth it though!
To simplify things, you could also book a guided half-day trip so you don't need to leave your luggage anywhere!  Then your guide can drop you off at the station to head to Rome!
Pro Tip:  When you go to Vesuvius there is 1 single-stall bathroom WITH NO TOILET PAPER OR A WAY TO WASH YOUR HANDS.  Be prepared to drip-dry, pack a few tissues with some hand sanitizer, or just hold it! 
After your afternoon spent in Pompeii, it's time to head to Rome, which no Italy Itinerary would be complete without!
Days 12 & 13 – Rome- 2 Nights
This is how I would break down Rome in 2 Days for a trip to Italy –
Day 1: Major Tourist Sights in the Center
The Colosseum
Roman Forum
Spanish Steps
Trevi Fountain
Night 1: Traditional Dinner away from Tourist Sites & Sleep
Think what is the most possible Italian meal I could have that isn't pizza.
Day 2: Vatican
You are going to want to book these tickets at least a week before your trip, so I recommend you book before you leave.  Go early, do the Sistine Chapel first, then hop in line for St. Peter's (you're going to wait about 2 hours- regardless of what you do).  If you want to buy tickets to climb the dome- do so in advance!  A great way to do this is booking through Viator – they have tons of amazing Vatican tours available!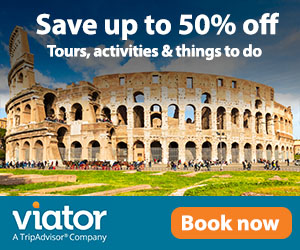 Night 2: Wander through the cute parts of the city, and find some nightlife.
Where to Stay in Rome
Homestays in Rome
$ Studio Bedroom near Campo di Fiori – Starting at $86/Night – Sleeps 2 
$$ Villa with Garden Near Colosseum – Starting at $110/Night – Sleeps 6
$$ Historic Center Apartment with View of Tiber River – Starting at $122/Night – Sleeps 6
$$$ Amazing Beautiful Vittoriano Rome – Starting at $247/Night – Sleeps 4
Hotels in Rome
$ J24 B&B – Starting at $70/Night
$$ Gemme Di Roma Accommodation – Starting at $111 /Night 
$$$ Palm Suites – Starting at $330/Night 
Hostels in Rome
$Funny Palace Rome – Dorm Beds Starting at $18 /Night – 8.2 Rating on HostelWorld
$$ Free Hostel Roma – Dorm Beds Starting at $22/Night – 9.2 Rating on HostelWorld
$$$ Meininger Roma Termini – Dorm Beds Starting at 35/Night – 9.2 Rating on HostelWorld
Bonus Day! Genoa- 1 Night
If you have a couple of extra days to fit into your Italy Itinerary, I would round out your trip and make a pit stop in the largest seaport of Italy, and the 6th largest city in this beautiful country. Genoa is a unique little coastal town and worth a stop if you have the extra time to spend and are looking for another place to visit.
Must-Do:
See Piazza di Ferrari
Via Garibaldi Palaces
Acquario di Genóva (Genoa Aquarium)
Then Back to Milan to end your trip and finish up your Two week Italy Itinerary!
Happy travels!  Feel free to leave a comment below if you have any questions, or there is something you did on your Italian vacation that is an absolute MUST!!!
If you are interested in my help in designing an Italy Itinerary for a completely customized vacation of your dreams…
Simply fill out the form below and I will be in touch shortly!