You've only got a few days off for the holiday weekend, and your feet are itching to go somewhere? So what is the best long weekend trip in the US?
Where can you travel in the US to get the most bang for your buck in just 4-5 short days?
I've been there, working the 9-5 living for the weekends to try and get away and see something epic in your spare time. Having explored 46/50 states and seen so much of the United States I constantly learn each day there is more to see! I've road tripped the US 3-4 times cross country, driven from Florida to Alaska and back and Florida to Cali 3 times. In 2023 alone I've drove the eastern seaboard, Florida to Maine and back – twice.
From Antelope Canyon in Arizona to the cool spunky old towns of Massachusetts, there are so many options for a long weekend trip in the US.
I've narrowed down this list for you of my absolute top options for the best cities to travel to for a holiday weekend in the US – and I've even added a few close non-domestic options!
St. Augustine, Florida
Flying low under most people's radars, St. Augustine makes one of the best places to travel for a long weekend trip. Its historic downtown is extremely walkable, lined with cute shops, buildings 500+ years old, and a mysterious old fort. The city is bright and buzzing with a mix of Southern Charm, Spanish intricacies, and Old Florida cuisine.
Great for couples and families alike, St. Augustine has it all. Sailing, beaches, history, craft bars, incredible seafood, and live music. Take a sunset sail on St. Augustine's Tall Ship Schooner Freedom, catch some rays on the beach at Anastasia State Park, learn about the Oldest City in the US at the Castillo de San Marcos, sip a cocktail at The Iceplant, eat some incredible ahi at The Floridian, and dance to the best bands of Northeast Florida at Prohibition Kitchen.
This little historic town will have your heart and your stomach. Founded in 1565 by Pedro Menendez de Aviles of Spain, St. Augustine is the oldest city in the United States. Take that one back to your history teachers!
St. Augustine has easy access to the Florida Springs as well – you can read my guide on swimming with the manatees at Crystal River! And if you decide to make it a longer trip you're going to want to know what to wear in Florida.
Getting to St. Augustine: Fly into Jacksonville International Airport (JAX) and rent a car. The airport is approximately a one hour drive to downtown.
Savannah, Georgia
I may be just a little biased, but I just absolutely adore the south. These quaint little towns just make for the best long weekend trip!  Savannah, Georgia is in my top list of places to get away for the weekend because of its beautiful squares, incredible civil war history, open container law, and top dining options.
Savannah is a great place for a girl's trip or a couples getaway. The options of things to do in Savannah are endless. Walk down Broughton Street shop – making sure to stop at the Paris City Market, of course! Take a haunted pub crawl, a historic tour of Bonaventure Cemetary, run like Forrest Gump at Wormsloe Plantation, and eat your belly full of southern comfort food.
While you're in Savannah don't forget to visit the Owens-Thomas house, which has the only remaining urban slave quarters with the largest collection of original haint blue paint. This is an important part of America's troubled past dealing with slavery and racism, and it is important to educate ourselves on the lives of the enslaved and never forget their lives or their stories.
How to Get to Savannah: Fly into Hilton Head Savannah Airport and Rent a car or catch an Uber.  It isn't necessary to have a car to get around Savannah, but it is convenient to head to some of the historic districts outside of town or to head to Tybee Island to go to the beach for the day.
Pacific North West Baby Road Trip
Oregon or Washington, it doesn't matter. Either of these beautiful states will make an incredible getaway for a long weekend in the US. Visit Olympic National Park (HUGE bucket list item) outside of Portland by getting a rental with ROAMERICA camper vans.
Or fly into Seattle and experience the city, then drive out and hike Mount Si with Mount Rainier as a looming backdrop. You can also kayak some of the lakes in the region and drive out to a few of the state parks.
The Pacific Northwest is the deal long weekend trip in the US for all the nature lover travelers out there who have to fly into a big city to get out of their hometown.
Austin, Texas
On a completely different vibe, head to Austin, TX for eclectic and hipster vibes. Surprisingly known as the live music capital of the world, Austin is one of those cities you're going to want to add to your US bucket list immediately. It's trendy and fun, and a great destination for a guys trip, gals trip, or for couples.
House some BBQ at the Legendary Franklin Barbeque, swim at the Barton Springs, and enjoy the nightlife the city has to offer. Austin attracts 150 new residents daily, and there's a reason people love this city so much.
Make your holiday weekend trip to Austin and you aren't going to regret it.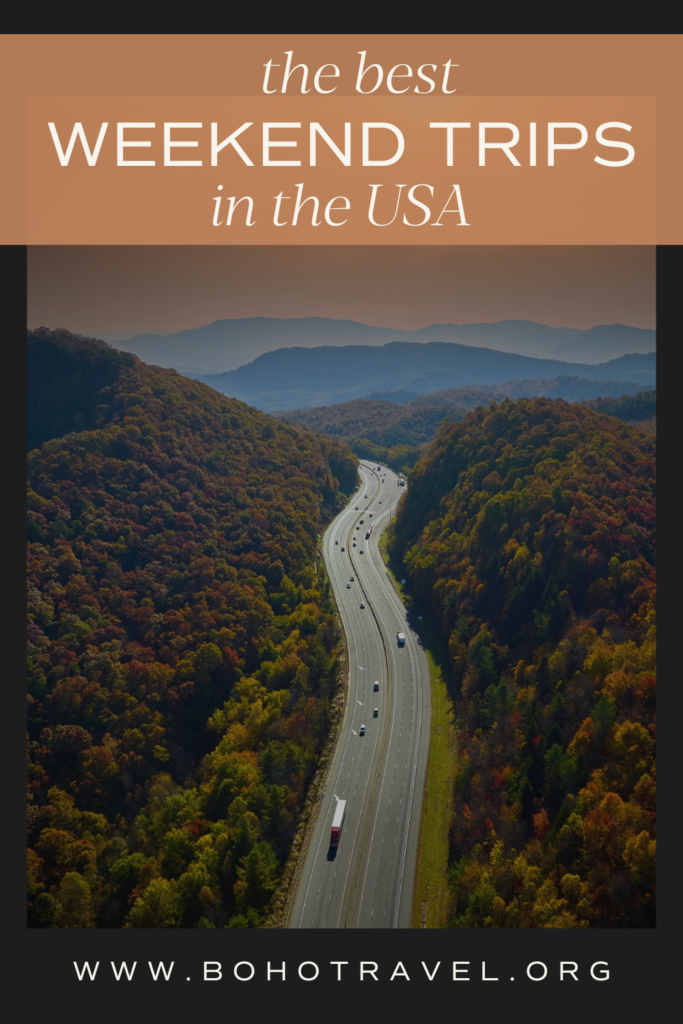 Maui, Hawaii
Hawaii?!? What?!?! You're probably thinking "How could I POSSIBLY do Hawaii in a long weekend?" And you're right, you probably can't do it in just 3 days…BUT if you're willing to work with me here and maybe use that Thanksgiving holiday weekend (or one of the other weird holidays where you get both Friday and Monday off) & maybe dip into one day of your PTO you absolutely CAN make Hawaii a long weekend trip!
For those of you still hanging on, not thinking I'm an absolute lunatic, let me clarify. If you're east of the Mississipi it's going to be hard to turn Hawaii into a long weekend trip, the flights just take too long. BUT – if you are west of the Mississippi – and a THOUSAND TIMES YES to those of you actually on the west coast- then by all means why HAVEN'T you made Hawaii a regular weekend trip destination yet?
Alright, I'm off my high horse now so let's get down to business. You need to get to Hawaii, and specifically Maui! Stay on the lush Kaanapali Beach, be amazed at the Iao Valley, and explore famous Haleakala National Park.
Don't forget all the snorkeling, whale watching, and incredible culture the Island has to offer.
I know it seems a little crazy to turn Hawaii into a long weekend trip, and it seems so unaffordable, but really quickly I want to try and change your mind about that.  I just recently secured a trip to Maui for $4208, flights and insurance included, at a lush resort on the beach for 5 nights.  It is possible, and you really should consider it.
---
Embark on your dream escape to Hawaii with the Boho Traveller! Submit your inquiry now and let us craft a bespoke journey filled with sun-kissed beaches, vibrant culture, and unforgettable moments.
---
Arizona
Entirely different from anything else on this list, Arizona is a low radar pleasant surprise. Complete with deserts and canyons, Arizona has some of the most unique and diverse landscapes in the US, and it's something everyone should see. Arizona is one of my top recommendations for your list of long weekend trips in the US.
The weather in Arizona is unbeatable, with its lack of humidity and the fact it's usually warm and sunny. If you didn't know, there are mountains in Arizona! My first time ever seeing snow was in Flagstaff, Arizona at the age of 12.
While the newly made popular (thanks to the 'gram) Antelope Canyon and Horshoe Bend are must-sees – the biggest draw for visiting Arizona is undoubtedly to see the Grand Canyon.
I've been to the Grand Canyon twice (three times?) personally, and the best experience I had was taking a helicopter tour from Las Vegas into the Grand Canyon for a champagne picnic. It was literally one of the most magical experiences of my life.
Whether you decide to take a helicopter tour, hike it by foot or drive the perimeter and stop at scenic overlooks along the way, the Grand Canyon in Arizona is an absolute bucket list item you have to get crossed off.
Florida Keys
I already listed one Florida long weekend trip option on here, but this little slice of paradise so close to home is hard to give up! For a more tropical and more boozy experience head to the Florida Keys for your long weekend trip.
An archipelago of islands just off the southern tip of Florida, it's like traveling to the Bahamas without ever leaving the US.
There are thousands of things to do in the FL Keys. Snorkel, kayak the mangroves, fish, dive for lobster, relax on the beach, get drunk in Margaritaville, and party it up on Duval Street. The Keys really do run on island time, so be careful when you go, you may never want to come back!
It can get super hot down in the Florida Keys during the summer, so you might want to check out my packing guide for the Florida Keys to help you try and beat the heat.
Salem, Massachusetts
If you're into weird history, witches, the occult, and ethereal oceanside scenery, Salem is the place for you my friend!  I visited Salem last October and fell absolutely in LOVE with it.
From ghost tours to sailing on historic schooners, Salem has a unique vibe that can't be replicated anywhere else. The whole town embraces its dark, witchy history I've never seen anything like it. In October you'll find people dressed up in costumes for the entire month, and throughout the rest of the year, many people dress in all black and practice modern witchcraft.
The dark history of those hanged there is an interesting one, and some of the buildings from the 1600s that were standing during the trials still remain, such as the Rebecca Nurse homestead, and the Witch House.
But apart from the history and witchcraft, nightlife in Salem is vibrant. Additionally, if you're a fan of cider (real cider, not that sweet Angry Orchard BS) you've absolutely GOT to visit New England anyways! The cider here is top-notch and there's nothing like standing around a firepit on a rooftop bar sipping a crisp cider.
Salem is a great long weekend trip in the US for couples or for a girl's getaway.
Getting to Salem: Fly into Boston. You can either take the train into Salem (very simple!) or rent a car if you also plan on visiting some of the countryside or any apple orchards.
Durango, Colorado
When people think of heading to Colorado, they often think about going to Denver. And I love Denver, it's a fun city and there's so much to do nearby. BUT if you want a totally different experience in Colorado, one with more of a cowboy vibe…you need to head to Durango. Here is my list of the top 10 things to do in Durango, Colorado!
Nestled away in the southwest corner of Colorado, tucked into the San Juan Mountains, Durango makes a PERFECT destination for a long weekend trip in the US.
Fun and affordable skiing in the winter at Purgatory ski resort, a cute little cowboy downtown, and hundreds if not thousands of hiking options nearby, Durango is absolutely the perfect place to visit for a long weekend trip. Durango is also only an hour and a half drive from Telluride Ski resort Via the Million Dollar Highway. This cliff-side drive is not for the faint of heart, but the views are completely and 100% worth it.
I go to Durango every year and this year for the first time I finally tried DOG SLEDDING – and I'm hooked. I want to do an overnight camping tour next time!
Durango also has the most restaurants per capita in the US, so not only will you be exploring like a pro, but you'll be chowing down like a queen!
Getting to Durango:  Flying into Durango Airport (DRO) can get a little pricey, so if you don't mind a further drive (3 hours) Frontier flies into Albuquerque and is a bit of a cheaper option.
Asheville, North Carolina
If you're looking for mountains in the south, Asheville, North Carolina is the perfect long weekend trip destination for you! With oodles of breweries, the quaint smokey mountains, and a unique mountain hippie vibe, Asheville is a fun place to visit.
Rent a cabin in the mountains for the weekend with a couple of your best friends and enjoy the solitude and tranquility the mountains bring. Don't forget to bring cards and a few games!
BONUS – Other Ideas for a Long Weekend Trip NOT in the USA
San Juan, Puerto Rico
Not technically domestic, not technically foreign, Puerto Rico is a great place to escape for a long weekend. Only a couple hours flight from Florida, this a way to feel like you are getting out of the US and on a real vacation without having to fork over the cash or the time.
Relax on the beaches, wander old San Juan, and even explore the jungle all in Puerto Rico. Test your balance with a surfing lesson and experience bliss in the tropics not far from home.
Cancun, Mexico
If you're looking for utter bliss in your weekend trip, try an all-inclusive resort in Cancun. Not all all-inclusive resorts are created equal, but they also don't come at the same ticket price they used to, especially in Mexico.
While I am usually more of an adventure traveler, I do love taking a break every now and then at an all-inclusive resort. Especially if it's only for a few days and so close to home.
I recently locked down prices in October for an all-inclusive, flights, transport, and insurance included for $2800 for 2 people for 4 nights. That is unbelievable!
Day dreaming of relaxing in Cancun? Let's start planning your adventure! At The Boho Traveller we believe in authentic and rustic luxury and would love to help you plan your dream getwaway. Just click the button below to submit an enquiry and get started.
Nova Scotia, Canada
Canada is a great option for a long weekend trip just outside of the United States. You'll need a passport, but Nova Scotia is one of the most beautiful places I've ever traveled to. On top of that, the weather in the summer is pristine.
Cute little German-inspired towns like Lunenberg make this little trip an ideal one for couples. Lazy days on the shore, wandering around little towns and just enjoying the quiet of Canada. Nova Scotia is the perfect little hideaway to fall off the grid for a few days.
Banff, Canada
Does a quiet weekend in Canada for you seem more appealing in the mountains than small coastal towns? Then you need to head to Banff, Canada.
This incredible little area of the Alberta providence is filled with glorious northern Rockies, electric-blue lakes, and I'm pretty sure it's required to own a golden retriever to live here.
Not far down the road is the Jasper Icefield. Here you can see a glacier and how it has been affected by global warming.
The best time to visit is in the late summer through the fall.  Make sure you don't go too early in the summer! You'll run into the problem we did and the famous Lake Louise will be frozen solid!
Did you find this article useful?  Let me know in the comments below, and don't forget to subscribe to my email list to get the latest travel deals, tips, and updates right in your inbox!  Keep it groovy.